Review by Shutter Muse
– Shutter Muse Link
Testing the Maha Energy Powerex Batteries and 8-Cell Charger
by Dan Carr – July 16, 2021
Photographers will always need to charge AA and AAA batteries. Even a brief glance around my office shows reveals wireless microphones, flash triggers, and a pile of accessory lighting gear such as headlamps, that all run off rechargeable AA or AAA batteries.
For years I have used Ni-MH Panasonic Eneloop batteries to power these devices, but I recently discovered an alternative in the Powerex batteries and chargers made by Maha Energy. Intrigued by what the brand had to offer, I contacted them and asked to test some of their pre-charged AA and AAA batteries, as well as the MH-C980 8-cell charger. Might they be a better, more cost-effective alternative to Eneloops?
Panasonic's AA Eneloop batteries are available in a wide variety of capacities ranging from 800mAh to 21000mAh. Their more expensive Eneloop Pro batteries are currently available with a capacity of 2550mAh. What struck me immediately about the Maha Energy batteries, when browsing their catalogue, was the 2700mAh capacity. That is a considerable increase (35%) over the standard 2000mAh Eneloops I usually purchase. It should result in a noticeably longer run time for my devices, or more full-power flashes in a strobe.
Not only are they higher capacity than Eneloops, but they are considerably cheaper. At the time of writing this review, a 4-pack of Powerex 2700mAh batteries costs just $11.95 from B&H Photo. Compare that to $34.95 for a 4-pack of Eneloop Pros, or $18.95 for the much lower capacity 2000mAh Eneloops. These are significant price differences, and significant differences in power capacity.
Powerex MH-C980 Charger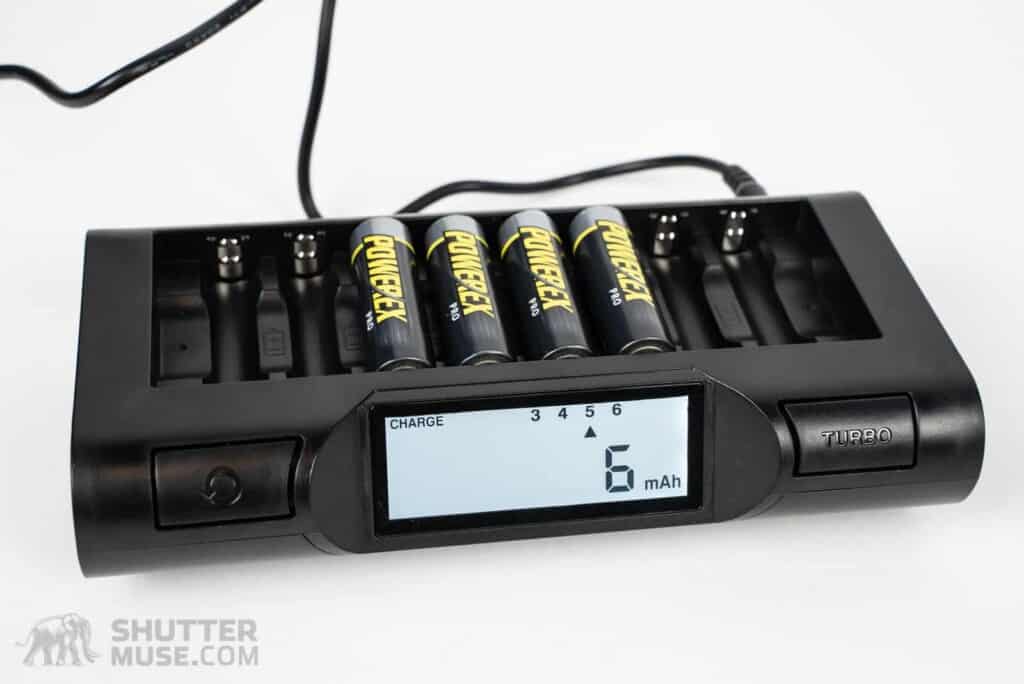 Noise While Charging
The MH-C980 8-cell charger is actively cooled while batteries are charging. This means that there are fans that start up as soon as you plug it into power and insert batteries. The fans are not quiet, so you would not want to place this charger in a room where you are recording videos. If you are travelling with the charger and staying in a hotel room, you might also consider placing the charger in the bathroom instead of close to your bed.
The active fans during charging are a necessity when charging this many batteries at high speed. There's no getting around that fact, so I can't say that the fan noise is a negative point against this product. The default charge mode is delivering 1A to AA batteries, with 2A in Turbo Mode.
The standard Eneloop charger that is often packaged with those batteries, delivers 0.75A in regular mode and 1.25A in a fast-charge mode. So, not only are the Powerex batteries higher capacity, but they also charge at a faster rate if you use this charger. The charger does not care which brand of Ni-MH batteries you put in it, though. So you could just buy the charger to use with some existing batteries. It also worked fine when charging my old Eneloops.
During my testing, I did notice a very odd ticking noise when the charger was plugged in and not being used. I asked Maha Energy about this and was told it was normal. To me, the noise was annoying and forced me to continually unplug the charger between charging sessions. Since there is no power switch, this means pulling the power cable out of the back of the charger. Not a deal-breaker, but a strange point of note.
Powerex MH-C980 Modes
The charger has three different modes. Normally I would simply explain the modes, but in this case, I also feel that it's necessary to explain how to activate them. Activating the charging modes is not as simple as pressing a corresponding button.
Default Mode
This mode maximizes battery life and performance. Removing all batteries from the charge will always reset it to the default mode. In this mode, batteries will take between 2 and 3 hours to charge, depending on the capacity. The charger delivers 1A to AA batteries and 0.5A to AAA batteries in this mode.
Turbo Mode
As you would expect, Turbo Mode gives you faster charging, but theoretically at the expense of battery longevity. You should not use it all the time, but if you're in a rush you can get all 8 batteries charged between 1 and 1.5 hours depending on their capacity. The charger delivers 2A to AA batteries and 1A to AAA batteries in this mode.
To activate Turbo Mode, first, make sure there are no batteries in the charger. Then place one battery in the left-hand charge slot and press the Turbo button within 5 seconds. Once a turbocharge has been completed, removing all batteries will reset that charger back to the regular charge mode.
Conditioning Mode
This mode takes up to 24 hours to run. It is designed to "exercise" irregularly used batteries or rescue batteries that have been left discharged for long periods and are now no longer taking a proper charge. At the end of the Conditioning Mode, the charger will display the available capacity of the battery, which is useful for finding any problematic batteries in your kit that might need replacing.
To activate Conditioning mode, remove all batteries from the charger. Place one battery in the left-hand slot and press the conditioning button within 5 seconds. Then place any additional batteries into the remaining slots.
You can buy the batteries in packs of four. But if you buy them in packs of eight, they come in a handy plastic case.
Conclusions
Powerex Battery Charger
I think Maha Energy are on to a good thing here. This is a very good charger if you regularly need to charge large amounts of AA or AAA batteries. Already I would not hesitate to recommend it to people because it does what it is supposed to do, and it does it quickly. However, there is room for improvement.
Firstly I would like to see an ON/OFF switch so that you do not have to keep pulling the power cable out and then fishing for it when it inevitably falls behind the desk/table. Secondly, I would like them to stop the strange ticking noise when it's not being used but is still powered.
Powerex Batteries
As for the Powerex batteries, these are a real winner. In two months of testing, I couldn't find any significant performance difference compared to my old Eneloop batteries. They appear to store charge very well, and the added capacity over Eneloops is appreciated, as is the considerably lower price point. Top-quality rechargeable AA batteries don't have to feel like a luxury anymore. As my old Eneloops reach the end of their life, I'll definitely be replacing them with Powerex batteries.
Where to Buy
Powerex batteries and charging products are available from Amazon and B&H Photo at the links below.
---